Design, erection and hire of traditional scaffolding. Our team of 50 highly trained scaffolding erectors are competent to take on any type of scaffolding project
Lexgate offer a full design and erection service for the installation of the revolutionary Swedish HAKI Temporary Roof System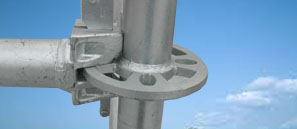 Systems Scaffolds are designed to allow for easy adaptation to virtually any structure, inside and outside. They are made up of different sized vertical posts and horizontal and diagonal tubes.
Suspended Power Access Platforms
Pedestrian Protection Solutions
The law says you must conduct your business without putting members of the public at risk. This includes the public and other workers who may be affected by your construction site
We operate a 24-hour a day, 7 days a week emergency response service. Our team are equipped to deal with any emergency situation providing a fast and effective service whilst still maintaining our usual quality and safety standards
Suspended powered access platforms or Cradles are the most economical way to carry out repairs to the outside of buildings often saving thousands of pounds against the use of traditional scaffolding
Access Towers and Stair Towers
Our selection of Access and Stair Access Towers offer you a range of work at height solutions. Constructed of galvanised steel, they are quick and easy to erect and handle plus they are lightweight.
Whatever the size of your project whether domestic or commercial we have a variety of hoists, harnesses and accessories vital for moving equipment, materials and personnel up or down your site quickly and easily
Birdcage or Crash Deck scaffolds
Birdcage or Crash Deck scaffolds provide a safe working area and platform for personnel working at height. They are often used indoors to undertake repairs and redecorating work like plaster boarding and painting at ceiling height
We can offer False Work and Shoring solutions for use when temporary support is needed during the construction of concrete and steel structures including bridges or supporting a building, bridge, vessel or trench with shores
Lexgate has many years of experience in the design, supply, installation and removal of temporary bridging solutions to suit your requirements.
Suspended and Rolling Scaffolds
When traditional supported scaffolding isn't enough as either you can't build a base for the scaffolding or you can't get easy access to the upper levels of the structure you need to work on we can offer a range of Suspended scaffolding
Lexgate use PON CAD design software enabling us to produce accurate and detailed scaffold design drawings and calculations for all types of structures – from simple residential jobs to large complex commercial projects
This software allows us to plan, design, manage and accurately quote a scaffolding project and we include these drawings as part of our service